Magnum Extreme Vault Door with All the Extras
Click here for most up-to-date information.
If the 1" thick steel door is not enough for you then we have some options for you. You can have ceramic fiber inside the door to really put a stop to heat damage from fires. This door can also be equipped with the honeycomb and thermal relocker to completely lock up the door if somehow a no-good criminal is able to cut their way through the extreme 1" steel door plating.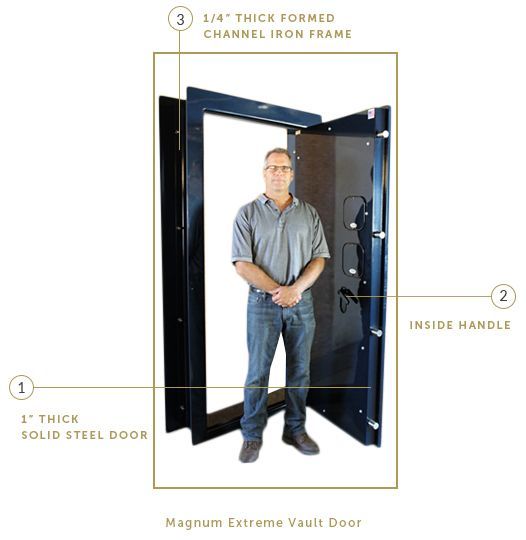 Photo Gallery
Check out an assortment of our Custom Security Vault Doors
"I have been wanting to take the time to let you know how extremely happy we are with the vault door! We just love it! My sister and brother-in-law will be contacting you shortly about a vault door as well. Thanks again for a GREAT door!"
- Connie
"Good afternoon. I just wanted to tell you what a beautiful safe you guys make. I couldn't be happier. A friend of mine is looking for one and I gave him your name. Also, Mike the installer was excellent. Two thumbs up!"
- Steve