Vault Doors Manufactured in the USA
Smith Security Safes: Your Gateway to Indisputable Security
Since 1982, Smith Security Safes has been proudly making top-notch vault doors and safe room doors in the USA. Our doors are not just about locks and steel; they are about trust, quality, and peace of mind.
We value our residential and commercial customers alike, and aim to provide a seamless experience from start to finish. Choosing and installing a vault door or safe door can be daunting, but we make it easy. Whether you pick a custom design or a standard size, our team is here to help you every step of the way. From helping you choose the right door to ensuring a smooth installation in your home or business, we make the process hassle-free.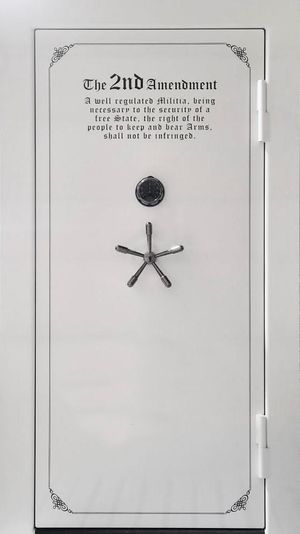 Buy a Vault Door or Safe, Get a FREE Upgrade!
Christmas really is the most magical time of the year, and to celebrate Smith Security Safes has decided to give our customers that purchase a vault door or safe during December one FREE upgrade option of their choice!*
We want our customers to get the coolest options on their vault door or safe this Christmas! You can add a biometric lock or put custom artwork on it to make it that much cooler. You could also go with a bypass lock or ceramic fiber or a full inside flange to finish out your vault door exactly how you want. Let's make your safe or vault door perfect during this magical time of year!
Have a Safe and Merry Christmas from all of us at Smith Security Safes, and thank you to all of our customers for a great 2023!
*Up to a $300 value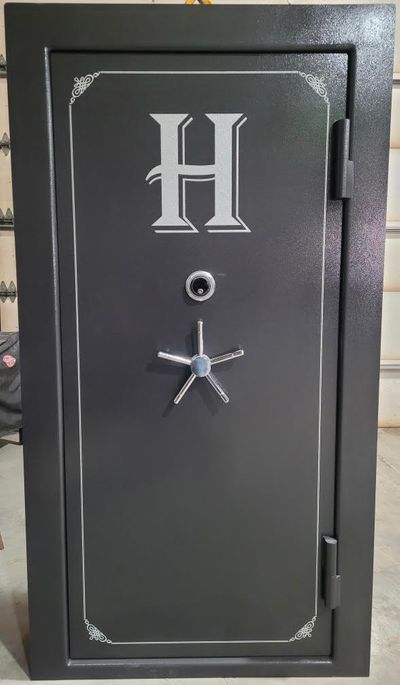 Our door of the week is our Magnum Vault Door in our Hammered Black Finish. This door is very traditional from its paint finish and pinstripes to its mechanical lock. I really love the traditional look of this door so I thought we would share this with you during this very traditional time of year.
Traditions are important and I think we always reflect on this as we near the holidays since it is the most traditional time of the year. Whether you are looking for traditional or something edgy, we are here to help get your safe door to be exactly what you want from the security level to the finish.
We have built a tradition of building custom vault doors and safes for great customers since 1982. Please feel free to contact us at 1-800-521-0335 and we will build you the perfect vault door or safe.
Have a great holiday season from Smith Security Safes!
At Smith Security Safes we are available to answer your vault door and safe questions 5 days a week. Please give us a call and we can quickly answer your questions over the phone.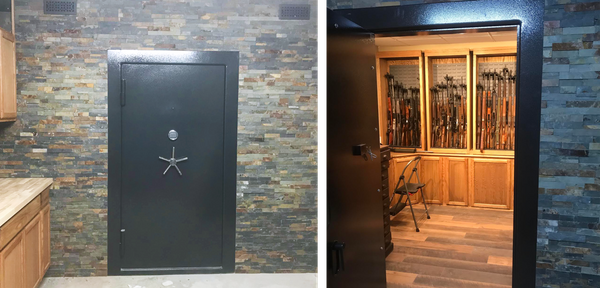 "Last year I purchased a vault door from you. When the door arrived, it fit very well. The installation took less than two hours and has worked great since.
You have a great product and great service and support, thank you!"
- Derek S.
"I cannot say enough great things about my Magnum Extreme door by Smith Security Safes!
Before the purchase, Doug answered all my questions and there were many of them. The purchase and delivery was smooth and fast, especially for such a large and heavy item. The installation was exactly how described and the door quality exceeds expectations. The door is perfectly balanced! It can be moved with one finger even though it weighs 10x more than I do.
Doug has been great to work with before, during and after the purchase. I highly recommend Smith Security Safes and I will be a returning customer when I build my next vault."
- Chad C.
"I just wanted to send you a quick note to tell you how pleased I am with the heavy duty door. Your guys were great helping load it into my truck and the main thing…….QUALITY.
Quality construction, quality operation, quality appearance and quality personnel. It's refreshing to see it still exists. You're a blessed business man."
- Barney C.
"Just a quick note that my magnum vault door is installed and fits perfectly. Installation was super easy (considering it weighs 1000 lbs!) and everything works great. I appreciate your working with me to design this custom size door. I will gladly recommend Smith Security Safes to anyone looking for an affordable solid door or safe with great customer service."
- George
"I have been wanting to take the time to let you know how extremely happy we are with the vault door! We just love it! Thanks again for a GREAT door!"
- Connie S.
Individual & Commercial Vault Doors: Your Shield Against Uncertainties
Protecting your business assets is vital. Choose our sturdy and dependable vault doors at Smith Security Safes. With a proud tradition since 1982, we're dedicated to your security. For businesses that need maximum security, our Extreme and Elite Vault Doors offer unmatched protection. For offices mindful of budget and security, consider our Titan and Heavy Vault Doors. Our best-selling Magnum Vault Door is perfect for diverse businesses, providing strong defense at a reasonable price. Each door is crafted with care, ensuring your valuables are safe in American-made steel. Our safe vaults aren't just about security; they're a wise investment for a secure business setting.
Essential Security Features for Your Peace of Mind
At the heart of every secure home and building is a door that refuses to budge. Our vault doors come with foundational safety features ensuring that your valuables remain untouched. Here's a simple breakdown:
Re-locker & UL Rated Lock: Think of this as a double-check for your door.If someone attempts to cut into your door, the re-locker jumps in, ensuring the door stays locked. Plus, our locks have a UL rating, meaning they've passed stringent security tests.

Inside Release & Panic Room: In the rare event you're inside when there's a threat outside, you can exit safely. And if you need to stay inside? Our doors transform into a secure panic room, keeping you safe till help arrives.

Hard Plates & Security Packages: Our doors are like armored knights. Optional hard plates shield the door's core, making it tough for intruders. Want even more armor? Choose our Pro or Premium packages for even greater protection.

AR500 Door Plate & Torch-Proof Layer: For those wanting the pinnacle of security, we offer upgrades like the AR500 – a super-strong steel plate used in ballistics protection. Or go for the torch-proof stainless-steel layer, making your door resilient against high-temperature break-in attempts.
Frequently Asked Questions
What are the different types of vault doors you offer?
We offer a range of vault doors tailored to various needs:
Titan Vault Door: Ideal for tight spaces and wooden walls.

Heavy Vault Door: Perfect for concrete walls with a thick steel front plate.

Magnum Vault Door: Our best-seller designed for concrete walls.

Extreme Vault Door: Features a thicker steel plate for enhanced security.

Elite Vault Door: Incorporates all our security upgrades.

Stainless Steel Elite Vault Door: Combines top security features with a sleek stainless steel design.
2. Can I customize the design of my vault door?
Absolutely! From choosing finishes like steampunk or matching a specific paint color to adding custom logos or family names, we can tailor the look of your vault door. Check our Photo Gallery for inspiration.
3. What's the difference between the Pro and Premium security packages?
Both packages offer enhanced security features, but choosing the Premium package will provide you with two hard plate upgrades, ensuring an even tougher barrier against potential threats.
4. Are your vault doors made in the USA?
Yes, Smith Security Safes has been proudly manufacturing vault doors in the USA since 1982.
5. How do I decide the level of security I need?
Every individual and business has unique needs. We recommend starting with our Titan Vault Door for basic security and considering upgrades based on the valuables you're protecting, the location, and your budget. For maximum security, our Stainless Steel Elite Vault Door is an excellent choice. For a Free Consultation, please call us at: 800-521-0335
6. I have specific requirements not listed on your site. Can you help?
Of course! We specialize in custom orders. If you have specific requirements or design ideas, contact us, and we'll work with you to create the perfect vault door for your needs. Please call us at: 800-521-0335 for more information.
7. Do you offer installation services?
YES! Our vault doors are designed for easy installation, and we provide guidance on the process. If you need professional installation, let us know, and we can assist you further.