Vault Doors Manufactured in the USA
Smith Security Safes
Started in 1982, Smith Security Safes takes pride in our USA made safes and vault doors. We have the experience to help you design your custom vault room and install your custom or stock vault door in your home, in addition to the several standard sizes available.
We want your experience of purchasing a safe or vault door with us to be as effortless as possible. We cater to both residential and commercial safe and vault door customers.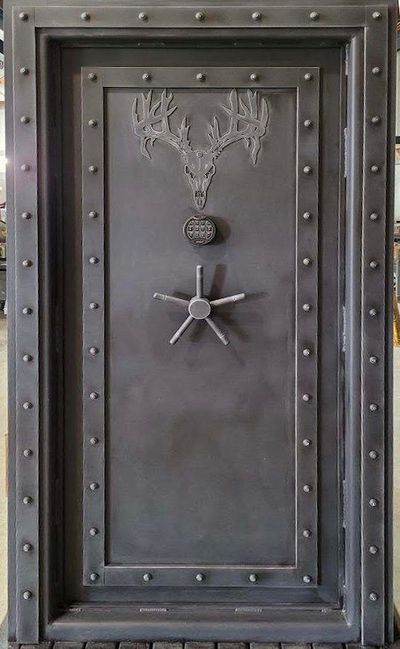 Our vault door of the week, is our Titan Vault Door in the Steampunk Finish. This door has a very cool and kind of scary custom skull on the top. It also has a Biometric lock which will give you super fast entry into your vault room or safe. This lock is designed to quickly scan your thumbprint to get you into your vault as quickly as possible. It can store several thumbprints and also has a keypad so you can enter a 6 digit code to get in as well.
Call or email us today and we will help design the door of your dreams or nightmares.
At Smith Security Safes we are available to answer your vault door and safe questions 5 days a week. Please give us a call and we can quickly answer your questions over the phone.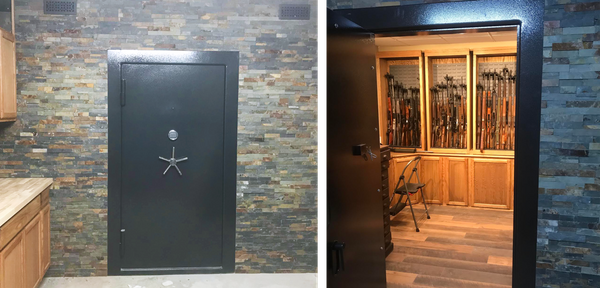 "Last year I purchased a vault door from you. When the door arrived, it fit very well. The installation took less than two hours and has worked great since.
You have a great product and great service and support, thank you!"
- Derek S.
"I cannot say enough great things about my Magnum Extreme door by Smith Security Safes!
Before the purchase, Doug answered all my questions and there were many of them. The purchase and delivery was smooth and fast, especially for such a large and heavy item. The installation was exactly how described and the door quality exceeds expectations. The door is perfectly balanced! It can be moved with one finger even though it weighs 10x more than I do.
Doug has been great to work with before, during and after the purchase. I highly recommend Smith Security Safes and I will be a returning customer when I build my next vault."
- Chad C.
"I just wanted to send you a quick note to tell you how pleased I am with the heavy duty door. Your guys were great helping load it into my truck and the main thing…….QUALITY.
Quality construction, quality operation, quality appearance and quality personnel. It's refreshing to see it still exists. You're a blessed business man."
- Barney C.
"Just a quick note that my magnum vault door is installed and fits perfectly. Installation was super easy (considering it weighs 1000 lbs!) and everything works great. I appreciate your working with me to design this custom size door. I will gladly recommend Smith Security Safes to anyone looking for an affordable solid door or safe with great customer service."
- George
"I have been wanting to take the time to let you know how extremely happy we are with the vault door! We just love it! Thanks again for a GREAT door!"
- Connie S.