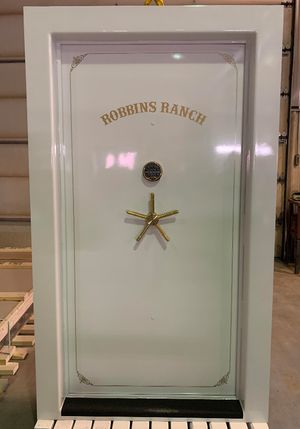 Door of the Week
The Smith Security door of the week is a very cool Heavy Vault Door that is painted high gloss white. This vault door has a solid brass 5 spoke handle with artwork to match. Our Heavy Vault door is designed with a 3/8 door skin and weighs in at almost 800 pounds which is why we call it Heavy. As you can see, this vault door also has the ability to look pretty awesome!
At Smith Security Safes we are available to answer your vault door and safe questions five days a week. With so many installation and state specific building code variables it is impossible to answer questions thoroughly in copy, please call and we can quickly answer your questions over the phone.
1) Common Questions
Call for hassle free answers! We love to talk about vault rooms! 800-521-0335
How thick should the wall to your vault room be?
Is it ok to use concrete block over poured concrete walls?
How to use stainless steel to stop cutting torches ?
Air ducts, yes or no?
Moisture problems and what to expect?
Why you should use a cutting wheel relocker?
2) Design / Architectural Questions
Doug, the owner, will answer the phone! 800-521-0335 • Call for hassle free answers!
What do I need to know to design a vault room?
What size room will work best?
How to create a concrete ceiling?
How do I create a secure wood framed wall on a budget?
How to create a room beneath a porch or patio?
Why two pieces of steel with plywood in between is better than one piece of thick steel?
Should I go with an in swing door?
3) Installation Questions
Call for hassle free answers! No sales pressure, we promise! 800-521-0335
We can install a vault door nationwide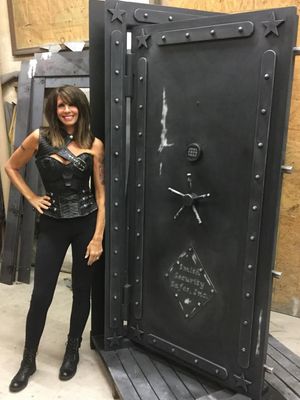 The Smith Security Safes version of a Steam Punk Industrial Vault Door is basically a nice face lift to any of our existing doors. The rivets on this door are not actually functional, they are just for looks, but they may also confuse criminals trying to gain entry and make off with your property. We will place aesthetic rivets in any design that you can imagine. We can have any logo, phrase, family name, or symbol printed on this door in whichever font you request. In the example you see below, we have our Smith's Security Safes logo printed surrounded by rivets bordering the logo and perimeter in the door itself.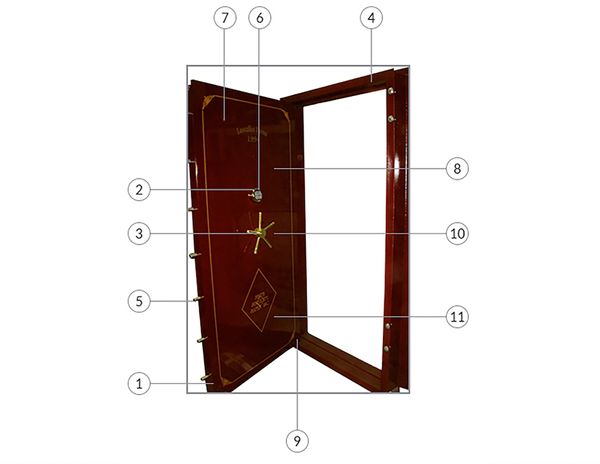 1. Door Thickness
3/16"-1/4"-3/8" – ½" or 1" of solid steel plate No composted doors. Also can be made of Solid Stainless Steel.
2. The Lock
Chrome or Gold. Standard combination. Digital. Digital with a duress option. Bio metric (fingerprint).
3. The Handles
Standard Lever. 5 Spoke - Chrome, Black Chrome or Gold. USA Solid Brass.
4. Frames
Made from 2",4",6" or 8" Channel for the lighter doors. Made from formed Channel iron for the Magnum Series up to 24".
5. Active Bolts
13/16" for the lighter doors. 1 ½" Stainless Steel for the Magnum series.
6. Thermal Relocker
Will stop Cutting Torches and Cutting wheels from breaking in though the lock.
7. Honey Comb
We add extra steel to the inside of the door to stop cutting torches from cutting though the door.
8. Keyed Bypass Lock
This is a special 5" long unpickable key that can unlock your door in case of Vandalism, fire or a malfunction.
9. Hinges
Made from hardened tooled steel. Designed so your door can swing a full 180 degrees. Also, the door can be lifted from off the frame.
10. Fire Rating
Once you add the 1" of ceramic fiber covered with 5/8" fire board along with the expandable fire seal, that will give you a rating of 4 hours at 1200 degrees. (Check out my testimonial - 4th from the bottom)
11. Hard Plate
We use a ½" thick piece of Manganese and that will stop any drill bit.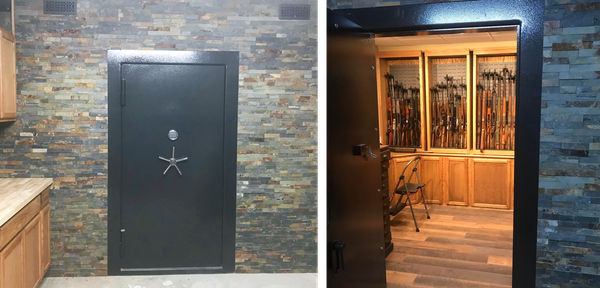 "Last year I purchased a vault door from you. When the door arrived, it fit very well. The installation took less than two hours and has worked great since.
You have a great product and great service and support, thank you!"
- Derek S.
"I cannot say enough great things about my Magnum Extreme door by Smith Security Safes!
Before the purchase, Doug answered all my questions and there were many of them. The purchase and delivery was smooth and fast, especially for such a large and heavy item. The installation was exactly how described and the door quality exceeds expectations. The door is perfectly balanced! It can be moved with one finger even though it weighs 10x more than I do.
Doug has been great to work with before, during and after the purchase. I highly recommend Smith Security Safes and I will be a returning customer when I build my next vault."
- Chad C.
"I just wanted to send you a quick note to tell you how pleased I am with the heavy duty door. Your guys were great helping load it into my truck and the main thing…….QUALITY.
Quality construction, quality operation, quality appearance and quality personnel. It's refreshing to see it still exists. You're a blessed business man."
- Barney C.
"Just a quick note that my magnum vault door is installed and fits perfectly. Installation was super easy (considering it weighs 1000 lbs!) and everything works great. I appreciate your working with me to design this custom size door. I will gladly recommend Smith Security Safes to anyone looking for an affordable solid door or safe with great customer service."
- George
"I have been wanting to take the time to let you know how extremely happy we are with the vault door! We just love it! Thanks again for a GREAT door!"
- Connie S.