Best Selling Vault Door! ½" Door Plate With 1 ½" Plungers, Priced Well!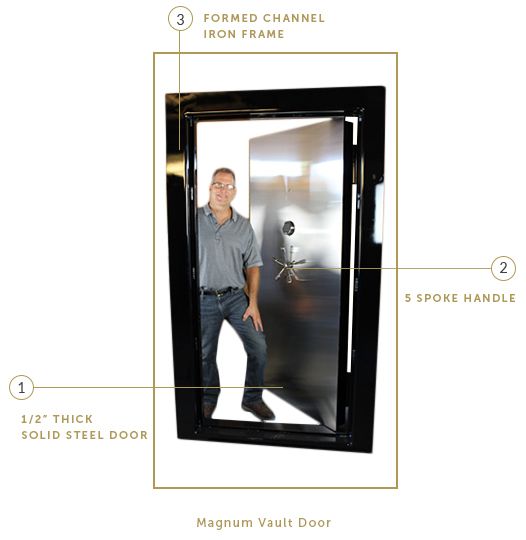 (Rough Opening 82" x 43 ¾")
This vault door is mounted on an 8" or 10" formed channel iron frame and comes with a ½" solid steel door skin, giving it an overall door thickness of 3 ½". The door weighs in at 1100 pounds and comes with 8 plungers made of 1 ½" Stainless Steel round stock.
With the Magnum series, everything gets heavier: The mechanism that runs the plungers, the plungers, the frame that holds the plungers, the formed channel iron, and, of course, the ½" solid steel door.
The Magnum Vault Door is my very best seller for these two reasons: It is an impressive door and has a very good price.
Base Price: $2,380 Base Price Includes Combination Lock & Handle
*All other options listed below
Delivery: Worldwide
Installation: Nationwide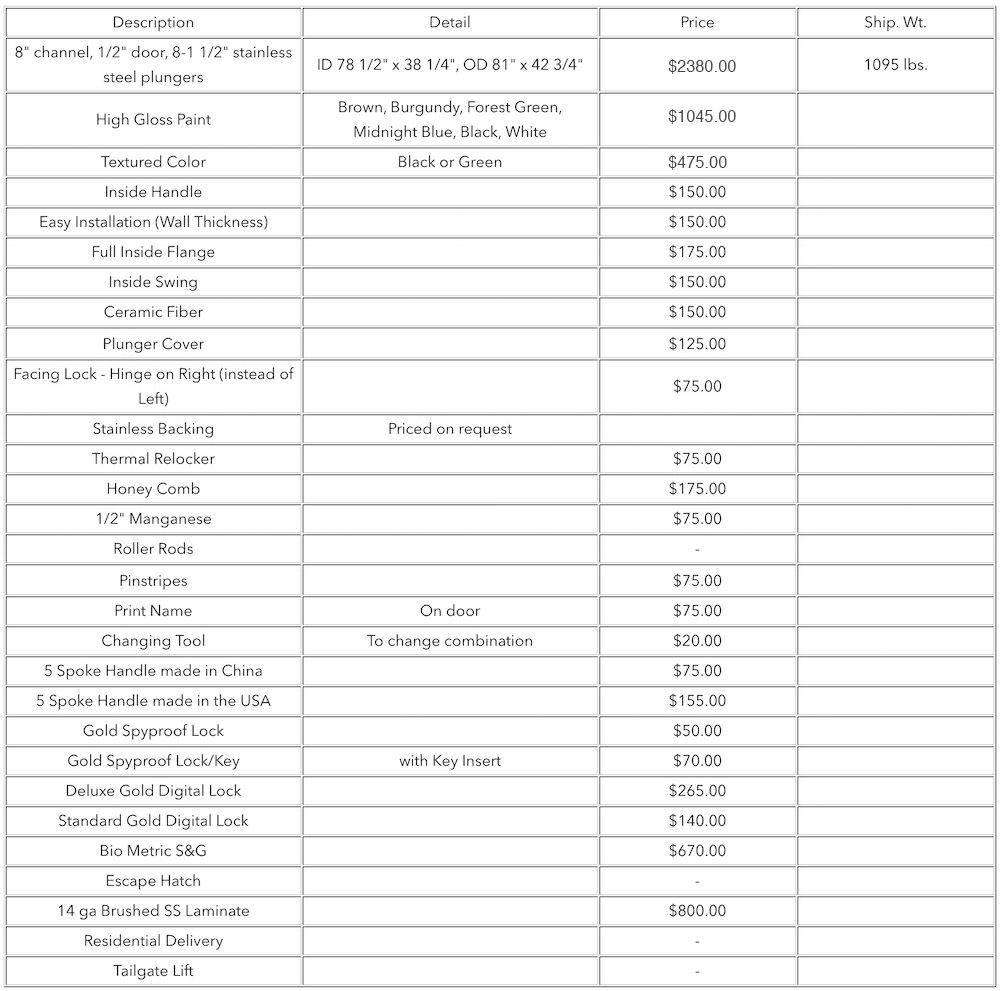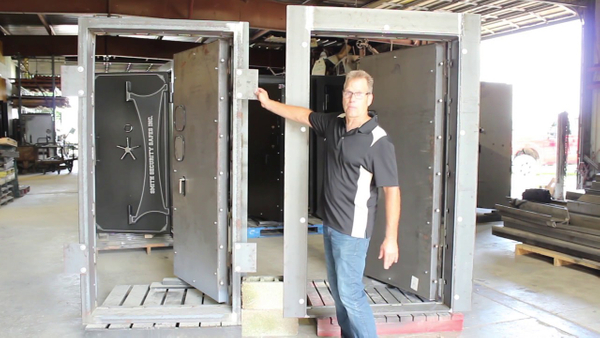 Full Inside Flange | Smith Security Safes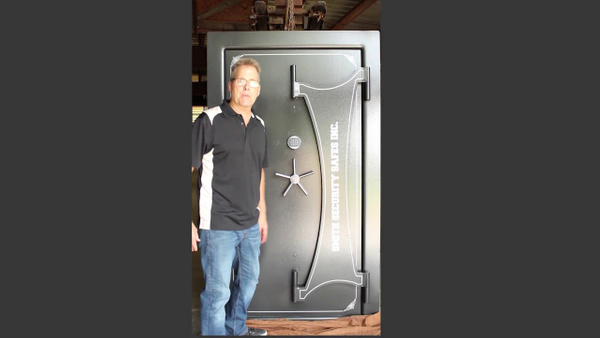 By-Pass Lock Key | Smith Security Safes
The Magnum Vault Door
The Magnum Vault Door has a ½" solid steel plate with an overall thickness of a little over 3 ½", and comes with an 8" formed channel iron frame. This door weighs in at 1,100 lbs and has 8 plungers that are 1 ½" diameter made of solid stainless steel.
This door can be mounted on however thick your walls are, and need a rough opening of 82" x 43.75", or you can give us your measurements and we'll make a door for you. It is best to be mounted directly to the concrete walls with all wood removed.
With the Magnum Series, we start to get serious with security, fire and appearance.
The Heavy Vault Door vs The Magnum Vault Door:
The Magnum Vault Door has a ½" thick plate compare to the 3/8" plate
The Magnum Vault Door has a formed channel iron frame which is stronger and looks a lot nicer than the dimensional 8" channel iron on the Heavy Vault Door. So, instead of welding a ¼" x 2" strip to the frame like on the Heavy Vault Door, it is formed in the channel, giving it a lot cleaner look
We use 1 ½" diameter stainless steel plungers instead of 13/16", which is almost 4x stronger
The door frame that houses the plungers is built 3x stronger on the Magnum Vault Door
The cam is twice as strong on the Magnum Vault Door so it can support the larger plungers
The thicker door skin and extra air space give it a higher fire rating
The Magnum Vault Door weighs 300 lbs more than the Heavy Vault Door and that is all door
We make the hinges so it can handle 3x the weight for the Magnum Door
The Magnum Vault Door is my best seller for two reasons: 1) it's a very impressive door, 2) at a very reasonable price.
We also offer worldwide delivery and nationwide installation. Read more about our professional installation >>
Click the button below for an itemized quote along with some schematics, rough openings and an explanation page that will lay out all my options plus how to order.
If you are looking for a vault door that will keep your family and most valued property extremely secure that will not break the bank then this door is for you. There is a vast array of options that you can have equipped on this vault door as you can see listed above. These options can prevent criminals from cutting through the vault door, and these options defend against the many tools that criminals use including cutting torches. You are also able to lock yourself in the vault and safely let yourself out with the inside handle.
If you are looking for a vault door that offers more security than my Standard or Heavy Vault Door then perhaps this Magnum Vault Door is the one for you. You may be looking for even more security. If this is the case then I suggest that you check out my Magnum Extreme Vault Door. Maybe you need something more, something different. You are looking for a DELUXE vault, a door to end all doors! If this is the case then you need to check out the Magnum Extreme Deluxe Vault Door and Stainless Steel Deluxe Vault Door which are the most secure and extreme doors I have to offer.
"I have been wanting to take the time to let you know how extremely happy we are with the vault door! We just love it! My sister and brother-in-law will be contacting you shortly about a vault door as well. Thanks again for a GREAT door!"
- Connie
"Good afternoon. I just wanted to tell you what a beautiful safe you guys make. I couldn't be happier. A friend of mine is looking for one and I gave him your name. Also, Mike the installer was excellent. Two thumbs up!"
- Steve