Now we are starting to get into the best vault doors to use on a concrete room. This door comes standard with 3/8" plate steel with 8" iron frame that is preferable to most customers who pair this door to a concrete wall. This door is only slightly more expensive than the standard vault door, but you get a lot for those extra bills. This door weighs 200 pounds more than the standard vault door, and that is without extra options! You get an extra 14" of steel on the front plate. That is just more steel between your prized possessions and those who wish to violate your property rights or worse, cause harm to you or your loved ones.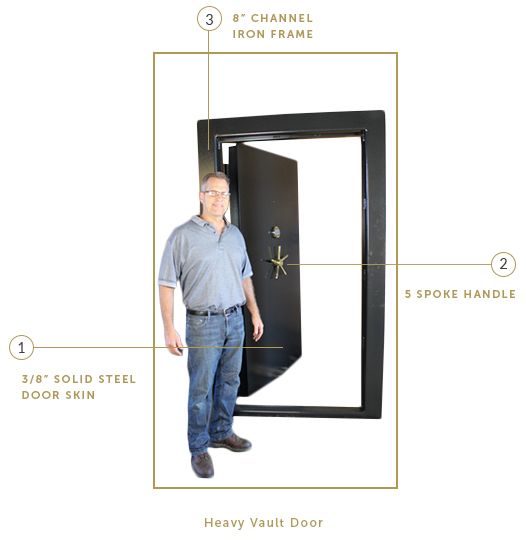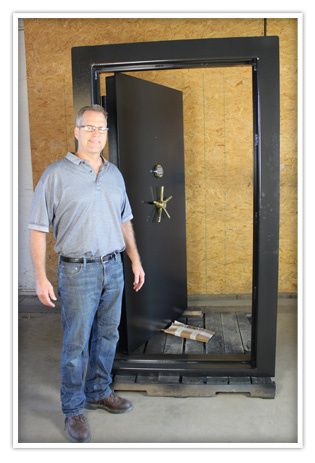 (Rough Opening Needs To Be 82" x 44")
This vault door is mounted on an 8" channel iron frame. It comes with a 3/8" solid steel door skin, giving it a 2 7/8" overall door thickness. The door weighs in at 790 pounds and comes with 14 locking pins made from 13/16" Stainless Steel round stock. These doors can also be made a little bit bigger and more security-minded with 14 stainless steel plungers.
The Heavy Vault Door works very well with 8" block or poured walls. It is the lightest weight door that I would recommend for a concrete room because the door should always be the strongest part of a room.
Base Price: $5,250 (Base Price Includes - Door, Frame, StrongHold Clamshell Flange System, Textured Paint, Standard Digital or Spyproof Mechanical lock, 5 spoke handle in chrome, inside release and panic room features, and the thermal relocker)
*All other options listed below
Delivery: Worldwide
Installation: Nationwide
The Heavy Vault Door
The Heavy Vault Door
The Heavy Vault Door comes with a 3/8" door skin with an overall thickness of 2 7/16" and a 8" channel iron frame. This door will weigh in at 800 lbs and has 14 13/16" stainless steel locking pins. This door can be mounted to any wall thickness and need a rough opening of 82" x 44" or just give us your opening size and we can make a door fit. It is best to be mounted directly to the concrete with all wood removed.
The Standard Vault Door vs The Heavy Vault Door:
The Heavy Vault Door comes with a 3/8" steel plate instead of a ¼"
The Heavy Vault Door comes with 14 stainless steel locking pins instead of 8 on the Standard Door
The Heavy Vault Door comes with 8" channel iron instead of 6" - this makes a better fit for the 8" or more of concrete
The Heavy Vault Door is bigger and weighs 200 lbs more than the Standard
All my vault doors come with a limited lifetime warranty for all parts except the handle, lock and paint.
We also offer worldwide delivery and nationwide installation. Read more about our professional installation >>
Click the button below for an itemized quote along with some schematics, rough openings and an explanation page that will lay out all my options plus how to order.
Photo Gallery
Check out an assortment of our Custom Security Vault Doors
"I have been wanting to take the time to let you know how extremely happy we are with the vault door! We just love it! My sister and brother-in-law will be contacting you shortly about a vault door as well. Thanks again for a GREAT door!"
- Connie
"Good afternoon. I just wanted to tell you what a beautiful safe you guys make. I couldn't be happier. A friend of mine is looking for one and I gave him your name. Also, Mike the installer was excellent. Two thumbs up!"
- Steve