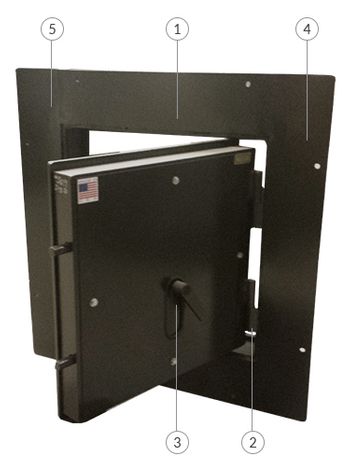 The Escape Hatch
Hatches add another layer of security to your safe room by creating an additional entry or exit. We offer door skins from ¼" up to 1 ¼" thick stainless steel.
Escape hatches allow you to exit your safe room quickly and provide the security of having no entry from the outside.
2-Way hatches allow entry and exit and offer several options for entry security. Hatches can be mounted in wood, concrete, or block walls.
Floor hatches go in the ceiling of a vault room and have air-spring struts for increased usability.
Why choose a hatch?
Having another way out or in is important – storms, panic situations, or large vault rooms are reasons to install a hatch
Having hidden entry/exit is important. Hatches are easy to hide behind bookcases, desks, and under rugs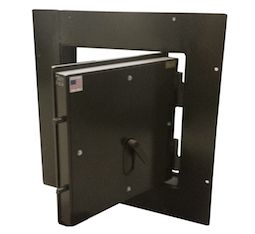 Inside View
Note, the full inside flange that you bolt into place
All are in swings with lever handle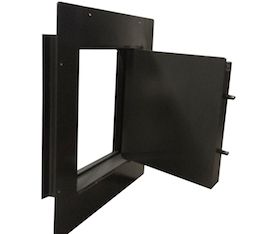 Side View
Does not come with a lock
Locks are optional, and they would use a key if desired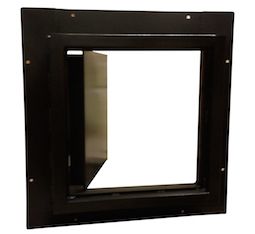 Outside View
Why You Need An Escape Hatch
We have all seen in movies when a fight pilot has to eject as a last minute escape in battle. There may come a time in your life when you need a last minute escape. The Escape Hatch that we manufacture offers you extreme security in the worst case scenario escape from danger. There are many situations that an escape door would be useful. These situations require various levels of security from basic physical barrier that can't be kicked in to a barrier that will protect against most bullets, torches, saws, and other tools criminals use to take what is not theirs. The Smith's Security Safes escape hatch offers all of these levels of security and is a great asset that will protect your loved ones and prized possessions.
Our escape hatch comes standard offering a 24" X 24" entry hole that full grown adults can easily fit through in case of emergency. The escape hatch door comes standard with a very strong 6" channel iron frame. These doors come standard with an in-swing set up and an inside handle. This also has a full inside flange and comes painted textured black. These doors do not come with a lock or outside handle, but this can easily be added. There are additional aesthetic options to spruce up the looks that we can discuss. There are many additional security options that will prevent savvy criminals with power tools or torches from getting through this door. I also offer customization whenever customers require it at an additional fee.
Every customer has a unique situation with unique requirements. I am almost always by the phone so give me a call or send me an email and we can discuss what options will work best for you.