Vault Doors
Smith Security builds an industry leading a quality vault door with superior craftsmanship and the toughest security features.
We offer many vault door styles to suit your needs. Below you can see all of the features and custom options for your vault door from our #1 Light Vault Door to the #9 Stainless Steel Deluxe Vault Door. We offer a basic vault door and escalates to the highest level of security vault door.
The differences are steel thickness, steel liners, locking and handle options, door finishes, fire protection options, door backings, door racks and shelves as well as power and lighting options.
Our attention to detail and solid reputation will provide you with a reliable vault door you can rely on that will provide a lifetime of protection. Our vault doors outperform and provide the most effective security for your most valued property.
Check out the links below and give us a call to discuss what level of security will best fit your needs.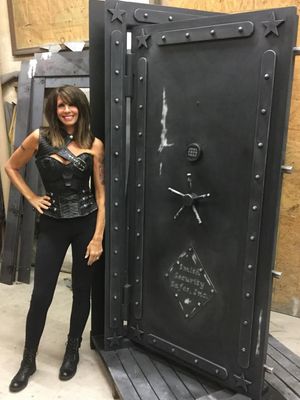 The Smith Security Safes version of a Steam Punk Industrial Vault Door is basically a nice face lift to any of our existing doors. The rivets on this door are not actually functional, they are just for looks, but they may also confuse criminals trying to gain entry and make off with your property. We will place aesthetic rivets in any design that you can imagine. We can have any logo, phrase, family name, or symbol printed on this door in whichever font you request. In the example you see below, we have our Smith's Security Safes logo printed surrounded by rivets bordering the logo and perimeter in the door itself.
About our Vault Doors
Here at Smith Security Safes there are a plethora of different kinds of vault doors to choose from. We have vault doors in all shapes and sizes to fit most security needs. We have simple install vault doors you can install yourself, but we also offer a delivery service that will have our trusted installer deliver and install the door for you.
If for any reason you do not see what you desire from a vault door, any Smith Security vault door can be customized to fit your needs. We do offer many different aesthetic and security options. You can have a vault door that is bare bones with zero options that isn't even painted, or you can get the cream of the crop, decked out, nearly impenetrable door that looks incredible.
There are many options you can have your vault door equipped with that will provide extra security. Depending on how you want the vault door to look you can have the door painted with a high gloss paint or a textured paint for a matte look. You can also have your vault door covered in stainless steel for a very cool look and added security. Pinstriping is an option that adds a certain class to the door. It just looks great and we will pinstripe customized words onto the door for you. There are various types of handles from a 5 spoke to simple down spoke handle. There are different types of locks we offer from just key, to digital, to biometric depending on what you desire. We offer an inside handle so you can more easily let yourself out of the vault door after it has closed. You can save big bucks by opting for the easy installation application which makes it very simple to install the vault door to your walls. We have the option to have an outside or inside swinging door depending on your needs. We can equip your door with a thermal re-locker. This device will completely lock down the vault door in the event of someone attempting to break into your vault with any device that creates heat like a cutting wheel or cutting torch. The honey comb is a structure inside the door that makes it much harder to cut all the way into and through the vault door.
Vault doors serve a purpose to protect your most valuable property and they can also provide a critical shelter of last resort for yourself and loved ones. I have been in the security business for well over 30 years. We have helped countless people meet their security needs and look forward to helping you as well. I am always available to discuss your security needs, just give me a call. I am here to assist you to build a quality vault door and offer you excellent service. I have been in business for over 30 years and after 30 years of building doors I can tell you that it is hard to imagine a type of job that I have not done.
So, if you do happen to find yourself in a pickle and need a security solution please give me a call!
­
­
Henry Ford once said, "They can have any color they want, as long as it's black". We all know companies who still think this way - but not Smith Security Safes. Smith Security Safes is dedicated to building custom vault doors and custom safes for your specific situation. We understand how complicated life can be. We can customize the size, security level, fire rating, and looks to match your custom design. Do you want an extra tall door so you can walk through easily? We can do that. Do you want a specific color to match the looks of your basement? We can do that too. Do you want to add your family's name or your business logo? We can customize that. Do you need a safe that fits perfectly into an odd shaped closet? We can build that. Do you need extra fire rating to protect family heirlooms from a house fire? We can do that too. Whatever your custom need is - we can do it.
Just call Smith Security Safes and we can help make your custom vault door or safe a reality.