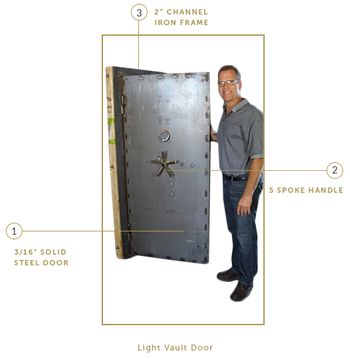 Titan Light Vault Door
Click here for most up-to-date information.
The perfect vault door for turning a closet or any room into a safe room. The light weight makes it easy to install in existing homes. The light provides basic protection from random burglar or to keep kids out. This is the entry level vault door.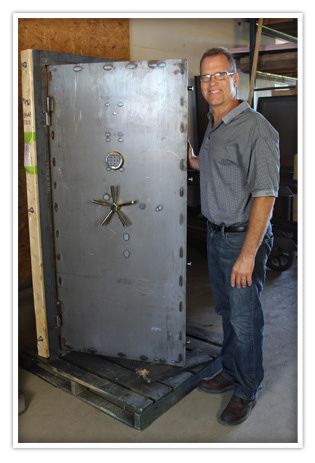 (Rough Opening Needs To Be 70 ¾" x 35 ¼" )
This vault door is mounted on a 2" channel iron frame. It comes with a 3/16" door skin and has a 2 3/16" overall door thickness. The door weighs in at 300 pounds and comes with 8 locking pins made from 13/16" round stock.
The Titan Light vault door works great in a home when you want to secure a closet. We can make this door to fit an existing door opening, just let us know the measurements
Base Price: $3,950 (Base Price Includes - Door, Frame, Quick Install Flange System, Textured Paint, Standard Digital or Spyproof Mechanical lock, 5 spoke handle in chrome, inside release and panic room features, and the thermal relocker)
*All other options listed below
Delivery: Worldwide
Installation: Nationwide
The Light Vault Door
The Light Vault Door comes with a 3/16" door skin with an overall thickness of 2 3/16" and a 2" channel iron frame. This vault door weighs in at around 300 lbs and has 8 13/16" locking pins on it. This door can be mounted to however thick your wall is with a minimum of 3.5".
This door is designed to replace a closet door. Just remove your existing door and slide this door in and lag bolt it in place. This door needs a rough opening of 70.75" x 35.25", or just give me the measurements of your door way and we can take care of the rest.
All vault doors come with a limited lifetime warranty for all parts except the handle, lock and paint.
We also offer worldwide delivery and nationwide installation. Read more about our professional installation >>
Click the button below for an itemized quote along with some schematics, rough openings and an explanation page that will lay out all my options plus how to order.
Photo Gallery
Check out an assortment of our Custom Security Vault Doors
"I have been wanting to take the time to let you know how extremely happy we are with the vault door! We just love it! My sister and brother-in-law will be contacting you shortly about a vault door as well. Thanks again for a GREAT door!"
- Connie
"Good afternoon. I just wanted to tell you what a beautiful safe you guys make. I couldn't be happier. A friend of mine is looking for one and I gave him your name. Also, Mike the installer was excellent. Two thumbs up!"
- Steve