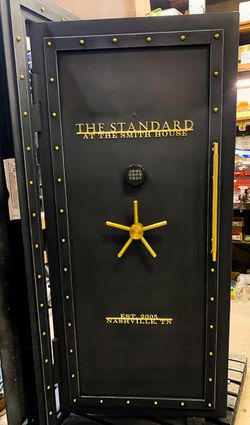 About the Titan Vault Door
The Titan vault door comes in 2 configurations:
Titan vault doors are a great way to make sure your vault room is safe and secure. This entry level safe door is built from American made steel, has 8 plungers and a ¼" steel plate as the first line of defense.
Why choose the Titan Vault Door?
The area is tight so a smaller door is ideal

The door is going into a wood wall

Security concern is medium to low

Budget is a priority

The door is mostly for appearance

Too much weight is a problem, our lightest stock door at 600lbs
This vault door is perfect for a wood framed room fortified with 3/4" plywood or 14ga. steel. This door is a big step up from the light vault door offering much more protection for you and your valuables This door is relatively low cost and is a great option for staying on a budget. The Titan vault door offersbasic security againstcriminals andsome firearm protection for an affordable price
Rough Opening Needs to Be 80" x 40"
The Titan vault door door is mounted on a 6" formed channel frame. It comes with a ¼" door skin and has a 2 ¾" overall door thickness. The door weighs in at 590 pounds and comes with 8 locking pins made from 13/16" stainless steel round stock.
The Titan Vault Door can be easily installed in a wood or concrete wall with our simple Strong Hold clamping flange design. This door is a great option for adding a vault door to an existing house.
Base Price: $4,750 (Base Price Includes - ¼" Door, ¼" Frame, StrongHold Clamping Flange System, Textured Paint, Standard Digital or Spyproof Mechanical lock, 5 spoke chrome handle, inside release and panic room features, and the thermal relocker)

Delivery: Worldwide

Installation: Nationwide
The Titan Vault Door comes with a ¼" door skin, an overall door thickness of 2 ¾" and a 6in formed channel frame. This door weighs 600 lbs and has 8x 13/16" diameter locking pins on it. Have a wall thickness other than 6in? Ask about custom mounting brackets or upgraded frame for your situation.. This vault door needs a rough opening of 80"x40". Do you have a rough opening other than 80" x 40"? No problem - just let us know and we'll custom make your door to fit!
The Titan Light Vault Door vs The Titan Vault Door:
The Titan Vault Door has a 6" formed channel frame compared to a 2" channel iron frame for the Titan Light

The Titan vault door is bigger and twice the weight of the Titan Light vault door

The Titan door has the space to upgrade to Ceramic Fiber to improve fire protection - the Titan Light vault door does not
All Smith Security vault doors come with a limited lifetime warranty for all parts except the lock and paint.
We also offer worldwide delivery and nationwide installation. Read more about our professional installation.
"I've been wanting to let you know how extremely happy we are with the vault door! We just love it! My sister and brother-in-law will be contacting you shortly about a vault door as well. Thanks again for a GREAT door!"
- Connie
"Good afternoon. I just wanted to tell you what a beautiful safe you guys make. I couldn't be happier. A friend of mine is looking for one and I gave him your name. Also, Mike the installer was excellent. Two thumbs up!"
- Steve