The Dispensary Vault Door
The Perfect Vault Door For Keeping Your Inventory And Cash Safe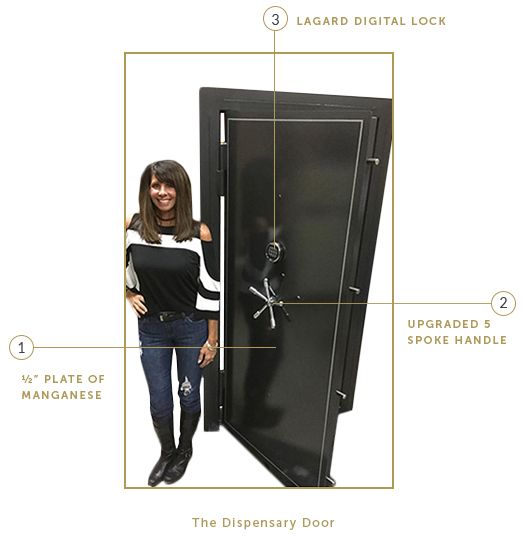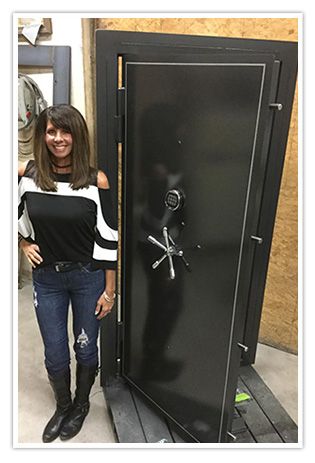 Features:
This vault door is in stock and all ready to install all I need is a 39.25" x 79.25" RO and it will slide right into your opening.
Below are the options it comes with:
1. The Dispensary Vault Door will be painted in a textured black. Other colors are available at an added cost.
2. The Dispensary Vault Door will have an inside handle so you can lock yourself in or get out if you do get locked inside. This can save your life if a criminal breaks in and you need the ultimate safe place to hide.
3. The Dispensary Vault Door has hallmark EZ install flanges and brackets. It is designed for a compression fit, no drilling hole into concrete. This door can be installed very quickly with no mess or permanent marks left on your walls.
4. The Dispensary Vault Door has a thermal relocker, which is a device that will lock your door down in the event of someone attempting to break into the vault with a cutting torch or cutting wheel. Once the thermal relocker is triggered the door will completely shut down and the criminals will have almost no chance of getting to you and whatever you are protecting behind this door.
5. ½" plate of manganese has been added to stop any one from using a drill.
6. A bypass lock has been added so in the event of your lock being destroyed you can you use the 5" long key to get in.
7. A bypass handle has been added. This allows you to enter the door in a scenario where the standard handle has been destroyed by a criminal or a freak accident.
8. An upgraded 5 spoke handle has been added to ease the opening and closing of the door to access the vault.
9. The Dispensary Vault Door comes with a Lagard Digital Lock that is made in Kentucky.
This Vault Door may be more than you would like to spend, but it has all of the options that make this very easy to install and fix, in the possibility of a break in.
We have them on hand - first come first served basis.
All for $3195 FOB.
"I have been wanting to take the time to let you know how extremely happy we are with the vault door! We just love it! My sister and brother-in-law will be contacting you shortly about a vault door as well. Thanks again for a GREAT door!"
- Connie
"Good afternoon. I just wanted to tell you what a beautiful safe you guys make. I couldn't be happier. A friend of mine is looking for one and I gave him your name. Also, Mike the installer was excellent. Two thumbs up!"
- Steve