Modular Vault Rooms
Safety rooms are a very good tool to have as a last resort shelter in order to keep you and your family safe. A secured safety room is most often used as a sanctuary for your most valued property. Our Modular Safety Rooms come in any size and any weight. Bolt them together in your basement line with drywall inside and outside to have them blend in. Let us help you with the concept and then: You can do it yourself!
Be Prepared! Be safe. Do It Yourself.
Those facing hardship who consider these the worst of times are often desperate and willing to take from those experiencing the best of times. One way to protect yourself from those who wish to make your property their property in these trying times is to create a defensive fortress and emergency shelter inside of your home, office or building.
Modular Vault Room elements come in your custom size
We at Smith Security Safes have developed what we call a Modular Vault Room that is basically an extremely secure panelized steel box that comes as a Do-It-Yourself safe room kit. The walls and roof will consist of a combination of 4ft and 2ft steel panels that are 12 gauge in thickness that will be bolted together. The standard Modular Vault Room will be 7.5 feet tall so it will fit into a standard room or basement with an 8 foot tall ceiling while still offering adequate standing room… unless you are André the Giant.
This Modular Vault Room is designed in a way that allows you to drywall the inside and outside if you so wish. If you would rather have the steel panels painted we do have many paint options and experienced painters. The walk-in safe room can be lined with carpeted gun racks or shelving, or you can use your own shelter as a panic room.
Modular Vault Room Benefits - Easy to Assemble! Easy to Expand! Easy to Customize!
To be installed in existing homes or offices
Rapid installation
True portability
Grows with your needs
Easy to Retrofit
Sell your home, you can take your vault room with you!
Safety Room Concept
This modular safe room can and should be bolted to the concrete wall of your home or building from the inside of the vault room so there is no way this thing can be removed from the premises. Our Modular Vault Room makes for an ideal storm shelter to provide your loved ones and prized possessions an extra layer of home security from the vicious wrath of Mother Earth. We take the extra step to ensure that the Modular Vault Room is extremely fire resistant. It can be equipped with ventilation and a dehumidifier to maintain the exact environment to prolong the life of the assets you seek to secure.
Modular Vault Room – Top 10 Purposes
Panic Room
Safety Room
Emergency Shelter
Fireproof Storage for Valuables
Walk-In Safety Room
Tornado Shelter
Storm Shelter
Security Vault Room
Home Safe Room
Safe Storage and Safety Lounge
We can help!
Let us provide you with a Safety Room Concept – Bring your blueprint or measurements so we can figure out if a modular vault room will work for your space.
We understand and appreciate that some customers have unique requirements that drive the need for customization. We can build these home safe rooms in many different configurations and dimensions for your individual safe room kit. We do offer extra security options to prevent even the most cunning of criminals from entering this (fortress) shelter. There are defense mechanisms we can build into this Modular Vault Room to prevent criminals from cutting or drilling in.
Optional Safety Mechanisms and Features
Fully lockable Walk-In Vault Room
Push Button Electronic Lock
Biometric Keypad (finger print scanner)
Panic - Internal Release Handle
Please give us a call to discuss which option will best suite your security requirements. We look forward to hearing from you soon.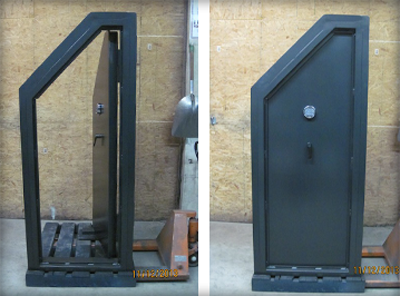 The concrete walls are nearly impossible to break through so the vault door could be the weak point if not properly equipped. We offer many types of vault doors for all different levels of security. The different types of locks we offer include biometric locks that can help you get into the vault room quickly and without a key. We offer many options that can make it almost impossible to cut into the vault door and offer your family and valuable property an extreme level of protection. Please feel free to call me to discuss how Smith Security Safes can provide you with a vault door that will best suit your needs.